Saving Money With Paintless Dent Repair: A Guide For Boise Car Owners
Owning a car equals dealing with the occasional dent or ding. Hailstorms, runaway shopping carts, or minor collisions can all lead to unattractive blemishes that not only compromise the aesthetic appeal of your vehicle but also diminish its resale value.That's where Paintless Dent Repair (PDR) comes in. Offering a quicker, more affordable, and environmentally friendly alternative to traditional repairs, PDR is becoming increasingly popular in Boise and beyond. This guide will delve into how PDR can save Boise car owners money while maintaining their vehicle's pristine appearance.
Understanding Paintless Dent Repair
Paintless dent repair, also known as PDR, is a non-invasive and cost-effective method of repairing minor dents and dings on vehicles. This technique uses special tools and techniques to gently reshape the metal without using paint or filler. If you're a car owner, it's important to know about PDR as it can save you time and money in the long run. Before we explore the cost-saving benefits of PDR, it's essential to understand what the process entails.
What Is Paintless Dent Repair?
PDR is a dent removal technique that repairs the damaged area without affecting the original paintwork. It involves the use of special tools and techniques to gently massage and reshape the dented area back to its original form.
The PDR Process
The technician begins by gaining access to the dent's backside.
Special PDR tools are then used to slowly push the metal back into place, carefully preserving the car's factory paint.
Cost-Effectiveness Of Paintless Dent Repair
One of the main reasons for PDR's increasing popularity is its cost-effectiveness. Here's why PDR tends to be more affordable than traditional dent repair methods:
No Repainting Required
Since PDR doesn't harm the original paint, there's no need for repainting or finishing work, making the process less labor-intensive and thereby less costly.
Quicker Turnaround Time
PDR often takes just a few hours, depending on the dent's severity, compared to traditional methods that might take days. This quick turnaround can save you the costs associated with rental cars or other alternative transportation methods.
Retaining Vehicle Value
By maintaining the original paintwork, PDR helps retain your car's value. Repainted areas are often a red flag to potential buyers, suggesting previous damage and repairs, which could decrease your vehicle's resale value.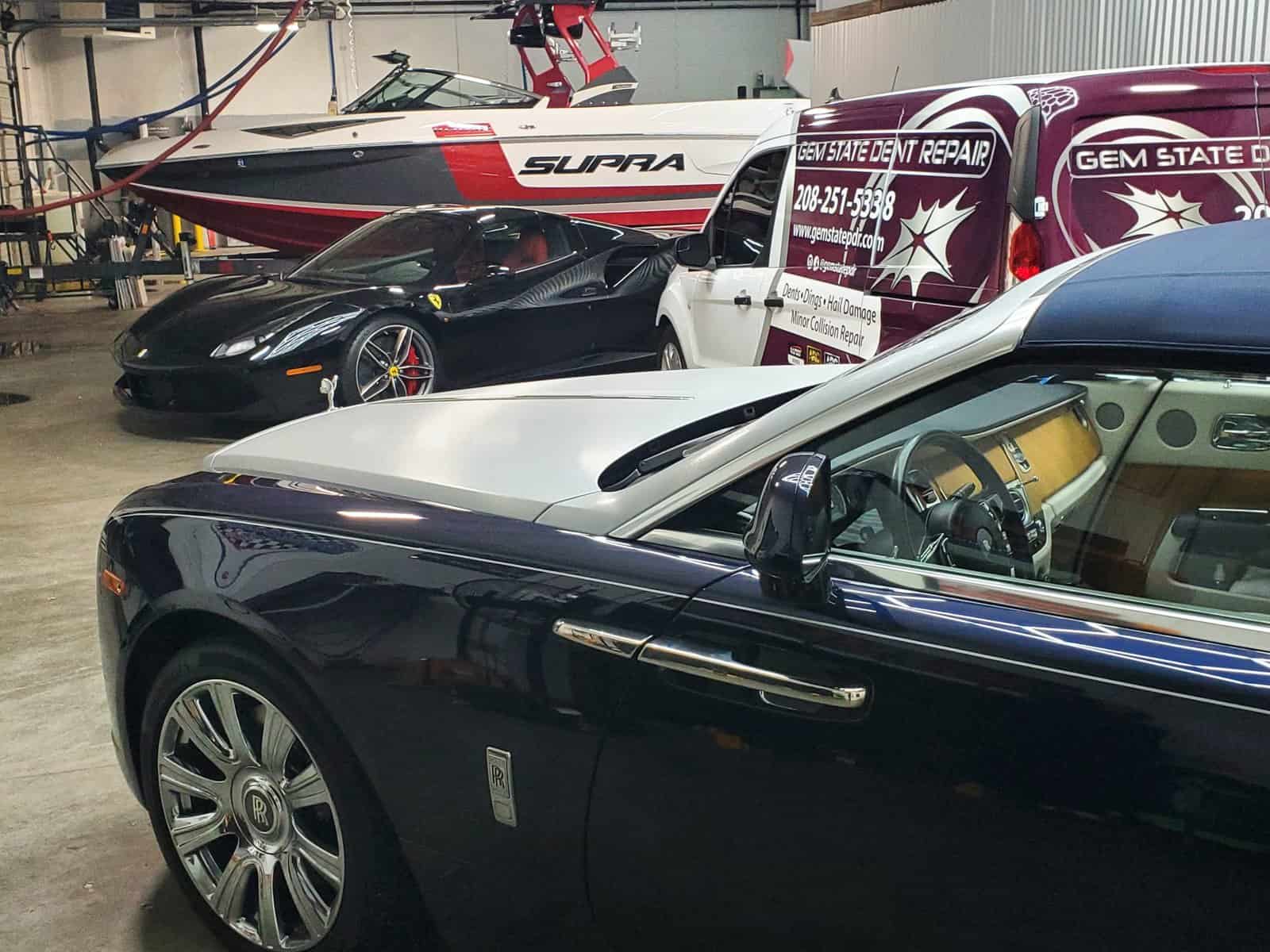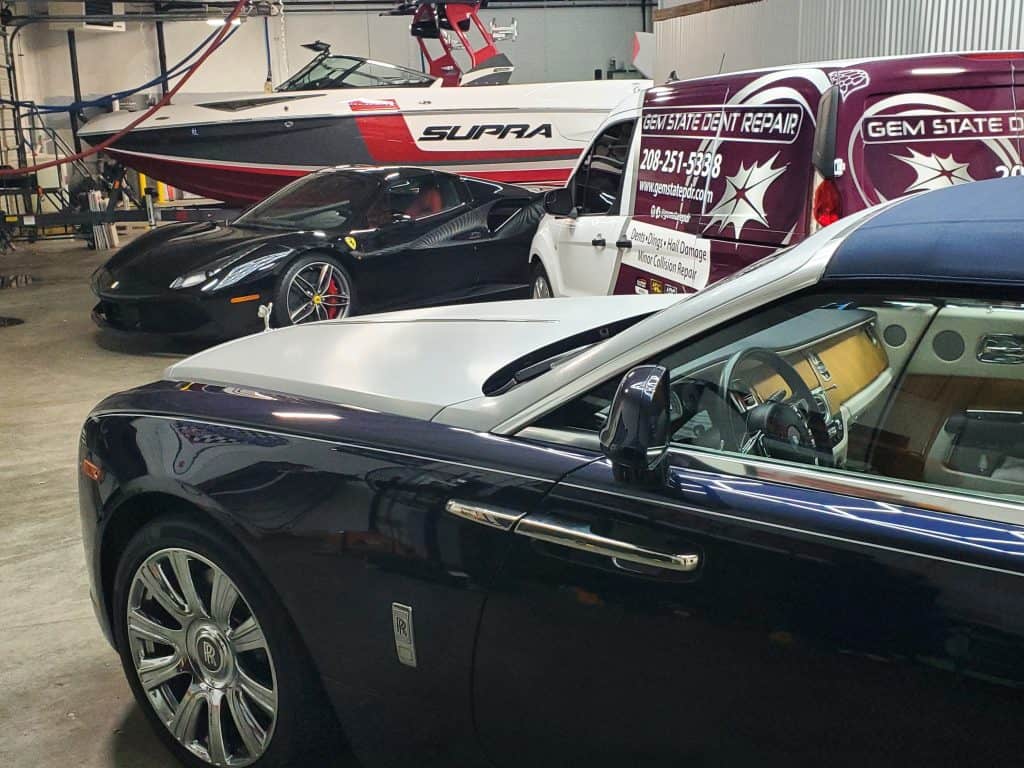 Finding a Reliable PDR Service Provider in Boise
A PDR service provider can efficiently restore your car's appearance, helping you save time and money in the process. However, with numerous PDR service providers in Boise, finding a reliable one can be challenging. The quality of their work can vary significantly, and it's essential to choose a reputable and trustworthy provider.
To ensure your vehicle is in the best hands, it's important to do your research and consider several factors before making a final decision.
Research and Reviews
When it comes to getting a dent repaired on your vehicle, finding a reliable Paintless Dent Repair (PDR) service provider can be a daunting task. In Boise, there are numerous companies that offer PDR services, but not all of them are created equal. It's important to do your research and read reviews before entrusting your vehicle to any company. In this blog post, we will be discussing the best ways to find a reliable PDR service provider in Boise through research and reviews.
First and foremost, it's essential to do your due diligence when researching PDR service providers in Boise. This means checking their credentials and certifications, as well as their experience and track record. It's also important to ask for referrals from trusted sources, such as friends, family, or other car enthusiasts.
Look for Specialization
Choose a provider specializing in PDR to ensure they have the right tools and expertise to deliver quality dent repair services.
Check for Certifications
PDR technicians should have industry-verified certifications, indicating they have undergone necessary training to perform PDR effectively and safely.
Ask for Estimates
Before you commit to a service, request a detailed estimate, which should break down the costs associated with the repair. This will help you avoid unexpected charges and allow you to compare pricing among different providers.Fortunately, there are ways to find a reliable PDR service provider in Boise. A reputable provider will offer free estimates, allowing you to determine whether the service is within your budget.
Care and Maintenance Post-Repair
Once you've had PDR performed on your car, some best practices can help maintain your car's appearance.
Regular Cleaning and Waxing
Regularly cleaning and waxing your car can protect the paint from damage and reduce the likelihood of future dents and scratches.
Mindful Parking
Be mindful of where you park your car. Avoid parking next to poorly maintained cars or in areas where your car could get damaged, such as under trees or near sporting events.
Paintless Dent Repair is a great way for car owners in Boise to save a significant amount of money. Not only a cost-effective solution, but it also offers the added benefits of retaining your vehicle's original paint and maintaining its resale value. PDR is a great option for fixing any dents or dings in your vehicle. It's a popular and money-saving repair method gaining popularity in Boise and across the country. Remember, a dent-free car is not just about aesthetics; it's also a reflection of the car's maintenance and care, making it a worthwhile investment.
Restore your Ride and Restore your Pride